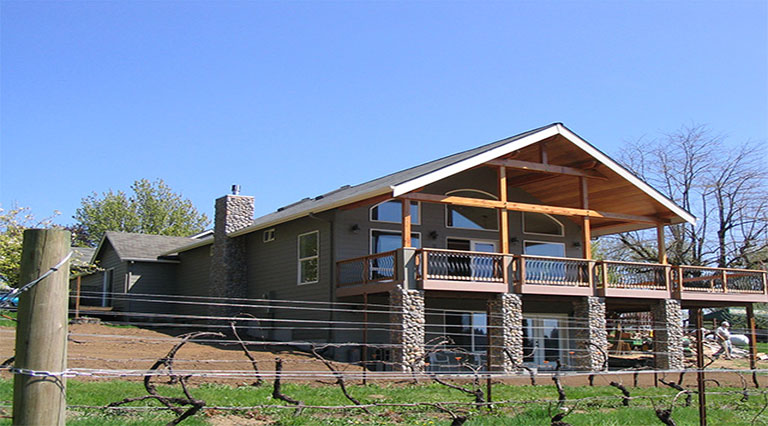 Ways to Increase Your Living Space
Home Remodeling Contractor – Vancouver WA
Adding more elbow room with additions.
There are many different reasons for needing more space: a child is on the way, mom is moving in, or you're starting a new home-based business. With a tight real estate market, it's not always easy to find a bigger home in the same neighborhood, same school district, and same style.
If you need more living space, there is another option – build it. There are several different ways of getting that extra room you need, but first you need to figure out what you want.
Basement Remodel
An unfinished basement is an ideal place to start, and in many cases, the infrastructure is already there. Plumbing is brought into the house via the basement, and if the electrical panel is in the basement, wiring the new space can be a snap, too. It may be used for storage now, but for the most part, it's a blank slate.
In many older Clark County homes, the basement ceilings may not be high enough to be considered "living space." Even though you won't be adding square footage according to code, with new insulation, framing, carpeting, and even a bathroom or small kitchen, your house instantly becomes bigger and more liveable.
Building Extra Space
There are two options when it comes to adding extra square footage, going up or going out. There are pros and cons with both approaches, so decide which will best fit your lifestyle. For example, if the home is on a small lot, adding an additional 200 square foot room on the back of the home may eat up a lot of the yard. Building up will require more planning, engineering, and time.
However, you'll get exactly what you want. Whether it's a dining room/kitchen expansion, a large living room that your home currently doesn't have, or a new addition to the family, this new space will be tailor-made for your needs.
Together, but Separate
Many folks are interested in expanding their home for other people. This could mean a mother-in-law apartment or turning the home into an income property. By adding four or five hundred extra square feet, complete with separate entrance, kitchen, laundry, and bathroom, your home becomes a welcoming place for a family member or a way to make some extra income.
You love your home. The neighborhood, the architecture, and the proximity to good schools, shopping, and restaurants. You don't want to move, but the house just isn't big enough. By adding the extra square footage you need, you can turn your starter home into your forever home.
Room Additions
If a room addition is in your future, make sure it makes sense for the present and the future.
For starters, a room addition isn't going to have a great return on investment. According to the Remodeling 2016 Cost vs. Value Report (www.costvsvalue.com) a master suite addition will only bring back around 70 percent of the cost. And that cost can be intimidating – a midrange addition can cost up to $120,000, an upscale addition more than double that.
However, with a real estate market now steadily on the rise, turning your house into the home you want may make more financial sense than looking for an entirely new home. And if you're planning on staying put for awhile, adding square footage to your home may also add to your quality of life. This is especially true if you're starting a family or growing the family you already have.
No matter if you're planning a master suite addition, deluxe living room, or nearly any kind of expansion, consult with professionals all along the way. An established contractor can help you navigate the process, from zoning restrictions to how the addition ties into the existing home.
Tell us about your project
We help make your home into your dream home.
Room addition questions to consider…
Building up or out? – If your home is situated on a small lot, building out a room will take a bite out of the existing yard. If having space for the kids to run around is important, consider building up. But it doesn't make a whole of sense to have a brand new kitchen on the second floor.
More Power – If your electrical panel is already jam-packed with existing breakers, ask your contractor about options to expand the load.
Time and Space – You may have pulled off that bathroom remodel last year, but a room addition of any kind is an entirely different undertaking. In addition to everything going on outside the house, work is happening inside the house as well. Be prepared for constructions workers to be coming inside for weeks – or even months – and the mess that comes with the job.
Contact Designers Northwest, Inc., to discuss your project. We offer design services for all projects and can provide clients with a 3D virtual walkthrough.
Latest Reviews