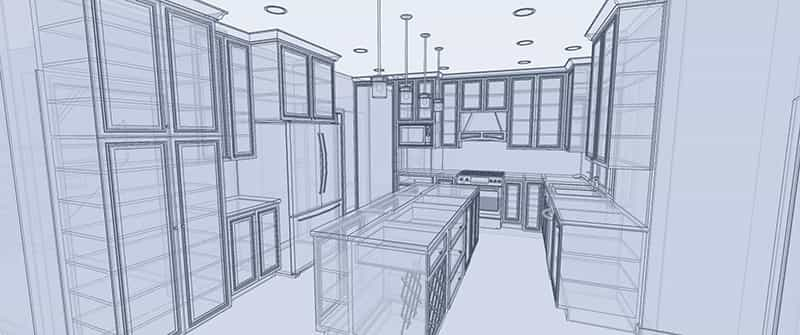 Home Design Services
Home Remodeling Contractor – Vancouver WA
Designers Northwest, Inc. offers home design services for all of your home remodeling and home design projects. With our computer-aided drafting program, we can provide our clients with 3D virtual walk through of your project during the home design phase of any project – a new kitchen, master suite, an addition, or an entire house remodel.
With in-house design experience, we can produce printed copies of the plans as well as 3-D digital renderings for your approval. A finished packet is produced, with a number of visual aids, including a compact disk.
At the start, Designers Northwest will "reverse engineer" the part of the house needing a remodel. Every inch is measured and notes are made about what can or can't be moved depending on the budget. For example, a larger budget can move plumbing to a completely different part of the kitchen. With a smaller budget, the HVAC system will have to stay put. Either way, we can redesign and refresh the space to your specifications.
Tell us about your project
We help make your home into your dream home.
Home Design Program – Digital Remodel
All of this information is entered into home design programs and the digital remodel begins. Not only are walls manipulated or cabinets designed, but cosmetic decisions are made, too. Paint color, tile styles, countertops, light fixtures and more are added to the home design. Customers can have as much input as needed, or lean on the experienced professionals at Designers Northwest, Inc., for help to make the decisions.
Additions are handled in the same way, although the footprint itself is a blank slate.
When you're ready to remodel your entire home–or considering a kitchen remodel or bathroom remodel–Designers Northwest, Inc., has the home design expertise to present the finished project on paper. If you like what you see, we have over 30 years of remodeling experience to turn this plans into your new home. Contact Designers Northwest, Inc., to begin your remodeling plans today.
Latest Reviews