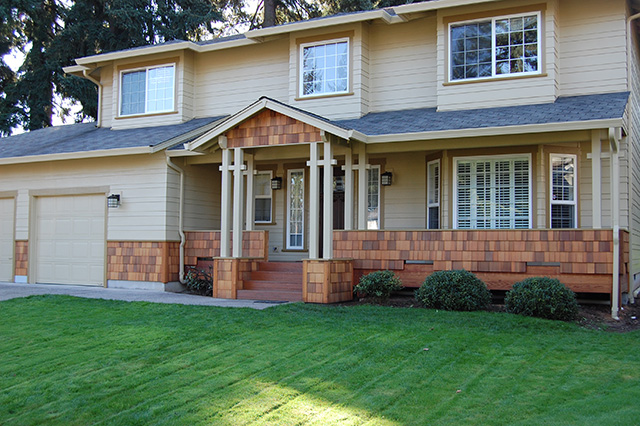 Adding a Second Story
Home Remodeling Contractor – Vancouver WA
There are many reasons to stay in your current home: the tight real estate market make it near impossible to move, sentimental attachment, or the location is perfect for shopping, employment, and schools. As your family grows, however, there is one thing your home doesn't have.
Space. No matter what, as a family starts to grow, the amount of elbow room begins to shrink. Designers Northwest will increase the livability of your home, without affecting the original footprint, by adding a second story. Not only is there possibility of doubling your square footage, you'll still be able to enjoy all of the amenities you've become accustomed to.
Designers Northwest is a master at blending new construction seamlessly into the new home. While adding a second story won't fool your neighbors, when we're finished the addition will look like it's always been there. Both on the exterior and the interior. Our staircase design will merge the two levels to create a natural flow.
Tell us about your project
We help make your home into your dream home.
Planning & Working with Existing Builds
Adding a second story will take more planning and engineering than adding an addition to the ground floor. The added weight will mean more support below, especially if a bathtub is part of the remodel. Designers Northwest will take care of all the planning and make sure everything is up to code.
This is also an ideal time to remodel parts of the existing home as well. A new kitchen, master bathroom, or entertaining area can really change the look of the home, so now is the time to go for the design you've always wanted in your home.
Does your home seem like it's shrinking by the way? Want to expand, but your lot just isn't big enough to support an addition? Call Designers Northwest for more information on adding a second story to your home.
Latest Reviews
May 30, 2018
Just an awesome remodel. Better than we had expected, and wonderful workmanship by all. We have recently completed an extensive remodel in Master bath, bedroom, Kitchen, family, dining, laundry, living, hallways etc. Lots of tile work , cabinets, and a 5 month job. We couldn't be happier with the outcome. MIke and his folks do a super job, and keep tabs on the entire project, working with the sub contractors to ensure the minimum of dead time on the job. Mike's folks are talented, approachable, and nothing is an issue for them.
They work hard to please.

The sub contractors they use are also simply excellent. Clean, neat, good craftsmen, and very obliging.

We loved the input and suggestions we received from all. It really helped make an outstanding end product. The suggestions, ideas and alternatives presented were just what we needed.

We highly recommend Designers Northwest, and would use them again in a heartbeat.

All in all a wonderful experience, and we miss all of the folks that became a part of our lives for 5 months. Our best wishes to all.
March 22, 2017
I had a very positive experience working with Mike Kinneman at Designers NW. He did an excellent job stepping through our large renovation project and was extremely knowledgeable and helpful. Also- best quality is that Mike is an excellent communicator. I would work with him again.
October 16, 2015
My highest compliments to Mike and his crew at Designers Northwest. They are professional, thorough, talented and they listen. The results were far better than I could have hoped for and considering the complexity of the project I was most impressed with the fact that the remodel was so well done that you can't tell it was remodeled. Fantastic work!!

Mick Simmons