Custom Kitchen Countertops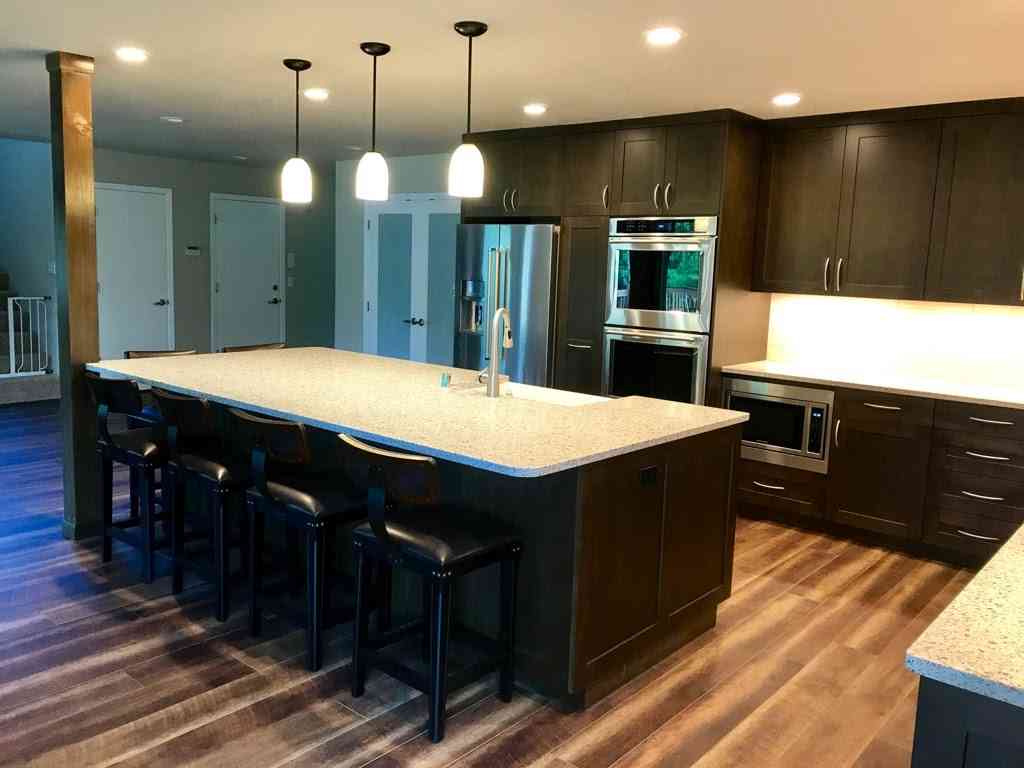 Custom Kitchen Countertops
Home Remodeling Contractor – Vancouver WA
Few things contribute to a gorgeous and sophisticated kitchen than the look of custom kitchen countertops.
When you are ready to re-design and remodel your kitchen, Designers Northwest will help you envision the perfect combination of functionality and beauty, and will customize everything to your tastes. We offer a variety of countertop, sink, and tile choices to suit any taste and budget.
Quality Kitchen Remodels from a Vancouver, WA Home Designer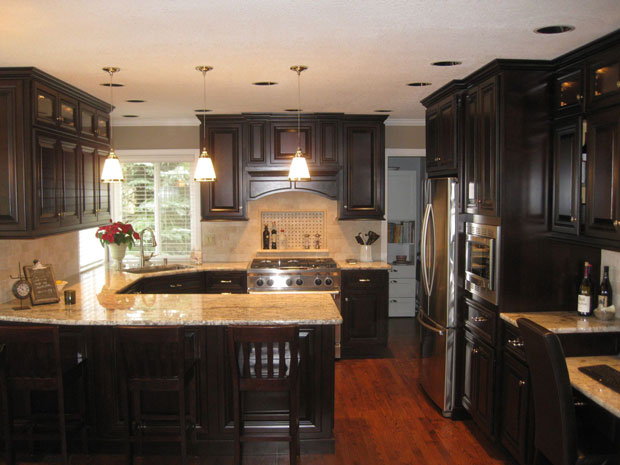 One of the most important decisions Designers Northwest can assist you with is your countertop materials. You can choose granite, quartz, or marble, depending on your taste and lifestyle. Each of these materials is a high-end choice that will be durable and resilient in your kitchen.
Beyond the materials, you will have the ability to choose the exact slab and granite colors for your kitchen countertops. We have a variety of stylish options available so you can choose the exact color, pattern and texture that appeals to you.
Kitchen Countertop Edge Styles
The material and shape of your countertop slab is not the only customized choice you have available to you.
Your custom counter decision also needs to take into account the edge style of the slab that is installed. The way the countertop interacts with your cabinets needs to be taken into consideration. This applies to countertops along your wall as well as your kitchen island.
Designers Northwest offers standard edge styles for granite and marble countertops including round edge, eased edge, and a classic 1/4" beveled edge. If you want to take it up a notch, you can choose a bull nose edge, a 1/2" bevel, a French ogee, or several other options. We are here to help you decide which style will work best for you and your kitchen.
Tell us about your project
We help make your home into your dream home.
Installing Your Custom Countertop
In the final step, after all design considerations have been finalized, we will use our top-of-the-line laser template system to bring your customized and perfectly-fitting countertop to fruition. Our expert installation professionals will ensure that your countertop is installed perfectly and ready for use as quickly as possible.
Are you considering a custom kitchen countertop remodeling project in the greater Southwest Washington area? Call us today and tell us about your needs. We will be happy to offer you a no-obligation consultation to help you realize your vision.
Latest Reviews
May 30, 2018
Just an awesome remodel. Better than we had expected, and wonderful workmanship by all. We have recently completed an extensive remodel in Master bath, bedroom, Kitchen, family, dining, laundry, living, hallways etc. Lots of tile work , cabinets, and a 5 month job. We couldn't be happier with the outcome. MIke and his folks do a super job, and keep tabs on the entire project, working with the sub contractors to ensure the minimum of dead time on the job. Mike's folks are talented, approachable, and nothing is an issue for them.
They work hard to please.

The sub contractors they use are also simply excellent. Clean, neat, good craftsmen, and very obliging.

We loved the input and suggestions we received from all. It really helped make an outstanding end product. The suggestions, ideas and alternatives presented were just what we needed.

We highly recommend Designers Northwest, and would use them again in a heartbeat.

All in all a wonderful experience, and we miss all of the folks that became a part of our lives for 5 months. Our best wishes to all.
March 22, 2017
I had a very positive experience working with Mike Kinneman at Designers NW. He did an excellent job stepping through our large renovation project and was extremely knowledgeable and helpful. Also- best quality is that Mike is an excellent communicator. I would work with him again.
October 16, 2015
My highest compliments to Mike and his crew at Designers Northwest. They are professional, thorough, talented and they listen. The results were far better than I could have hoped for and considering the complexity of the project I was most impressed with the fact that the remodel was so well done that you can't tell it was remodeled. Fantastic work!!

Mick Simmons