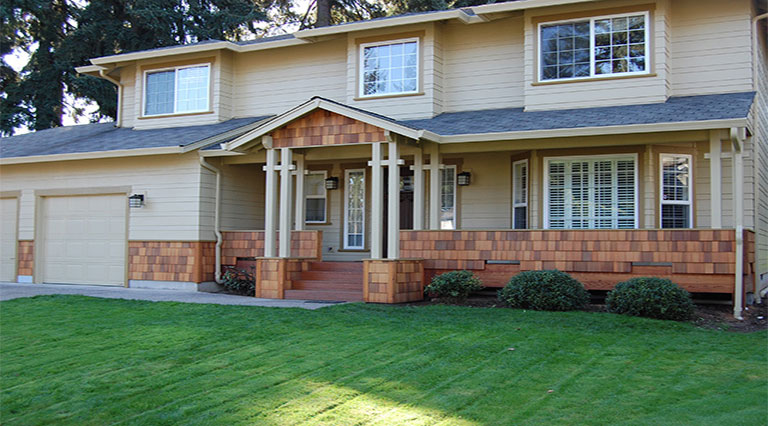 Exterior Home Remodeling
Home Remodeling Contractor – Vancouver WA
No matter if it contains an exotic chef's kitchen, luxurious master suite, or comfortable living room, every home is first judged on its curb appeal. New siding, a new front porch, or even an updated front door can breathe new life into a ho-hum exterior.
And, during the warmer months when friends and family come calling, an updated backyard entertaining area can make your home the place to be for creating lasting outdoor memories.
One of the first things you can do involves just a little bit of elbow grease. Weeding flowerbeds, cutting back shrubs and some well-placed pruning of trees can go a long way to refreshing the front yard. If you want to go a step further, painting the front door, adding new bark or mulch, or adding some defined edging make for an easy weekend transformation.
Tell us about your project
We help make your home into your dream home.
Looking for curb appeal? Think big with your exterior home remodeling project.
If you're really looking to make an impression, though, it's time to start thinking bigger. Adding a front patio, or even enlarging an existing front patio can bring a drastic change. Painting the exterior walls and trim a vibrant color or changing out tired siding can fully update your curb appeal.
Even if it can't be seen from the front, backyard changes can also give your home new life. In addition to cleaning up the landscape, a porch or patio can bring those gatherings outdoors with plenty of room for everyone. Depending on how much room you have, adding a pergola with handcrafted details can provide interest as well as shade during the warmer months.
Backyard exterior home remodeling considerations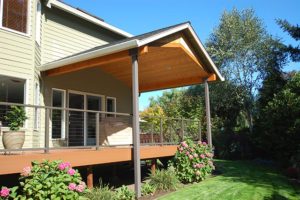 If your backyard can handle it, though, a wraparound porch expands your entertaining area by providing that much more seating areas or room for a grill for outdoor cooking. And with so many options for railings, this addition can be made to match your existing home or even give it a more modern look.
Designers Northwest, Inc., has been transforming home exteriors in the Vancouver, WA, for 30 years. No matter the style of home, Designers Northwest, Inc., has the experience to make these changes while keeping in step with the original architectural. Older homes with intricate detailing are not a problem as we have highly skilled and trained carpenters to replicate any architectural design.
Contact us today to set up an appointment or take our introductory questionnaire and let us know what you want to do.
Latest Reviews
November 01, 2019
We have used Designers Northwest for 3 projects ( Garage addition, Kitchen Remodel and Bathroom Remodel). We would not use anyone else. The design work is amazing and professional. They have the ability to do an addition that looks like it belongs as part of the home. The attention to detail is important part of us coming back to them. They do not stop until the work is perfect. They also stand behind their work. We had a countertop develop a small crack after a number of years. I was not able to get anywhere with the manufacturer. When I talk to Mike at Designers, he was able to work with the manufacturer and get it replaced.
We were also impressed with the quality of sub-contractors. We now use some of the subs (electrician, plumbing) when we have specific issues.

Thanks for all the great work!
November 04, 2019
Our company did an epoxy floor for one of their clients. Brian was friendly, professional and great to work with. Look forward to future projects together.
May 30, 2018
Just an awesome remodel. Better than we had expected, and wonderful workmanship by all. We have recently completed an extensive remodel in Master bath, bedroom, Kitchen, family, dining, laundry, living, hallways etc. Lots of tile work , cabinets, and a 5 month job. We couldn't be happier with the outcome. MIke and his folks do a super job, and keep tabs on the entire project, working with the sub contractors to ensure the minimum of dead time on the job. Mike's folks are talented, approachable, and nothing is an issue for them.
They work hard to please.

The sub contractors they use are also simply excellent. Clean, neat, good craftsmen, and very obliging.

We loved the input and suggestions we received from all. It really helped make an outstanding end product. The suggestions, ideas and alternatives presented were just what we needed.

We highly recommend Designers Northwest, and would use them again in a heartbeat.

All in all a wonderful experience, and we miss all of the folks that became a part of our lives for 5 months. Our best wishes to all.
March 22, 2017
I had a very positive experience working with Mike Kinneman at Designers NW. He did an excellent job stepping through our large renovation project and was extremely knowledgeable and helpful. Also- best quality is that Mike is an excellent communicator. I would work with him again.
October 16, 2015
My highest compliments to Mike and his crew at Designers Northwest. They are professional, thorough, talented and they listen. The results were far better than I could have hoped for and considering the complexity of the project I was most impressed with the fact that the remodel was so well done that you can't tell it was remodeled. Fantastic work!!

Mick Simmons